Challenge
For over 20 years Matrix Medical Network has been helping people with their healthcare needs. The company's clinicians visit seniors at home, assess their needs, identify and close any gaps in care, and offer life-changing services that help people manage their health and stay in their own homes.

More recently Matrix's business has transformed at pace, introducing new services and making acquisitions that enable the business to offer a broader range of world-class services to many other audiences. These services include helping businesses deal with COVID-19 and stay productive while keeping their employees healthy, helping pharmaceutical companies bring diverse communities into their clinical trials, and processing test results in under a day at the firm's state-of-the-art lab.

Amid all these changes this world-class business needed to articulate its purpose and create a world-class brand that would accurately represent the new reality of its transformation
Idea
Our starting point was a purpose-definition and brand architecture exercise that looked to make sense of the different business units and services Matrix Medical Network now offered.

What all the business units shared in common was clinical expertise. This came from a combination of two things. Firstly the business is led by clinicians. Secondly it has more than 3,500 clinicians, a telehealth platform and a fleet of mobile health clinics that enable Matrix to provide care to people wherever they are, meaning Matrix can deliver services to people and businesses across America quickly, flexibly and effectively.

Working in partnership with the company leadership we used this logic to develop a newly articulated purpose: 'To provide better care for everyone, everywhere'. This purpose was also translated into an advertising tagline: 'Expert care, wherever you are.'

We used the same focus on clinical expertise to organize the business units. Matrix Medical Network became the enterprise business and we defined four new business units that span its diverse portfolio of services. Matrix Clinical Care, Matrix Clinical Solutions, Matrix Clinical Trials and Matrix Clinical Labs.
Working with Brandpie is a joy. Their combination of business savvy, strategic excellence and creative flair is pretty unique. As is their ability to move at pace and execute with precision.
Jody Bilney
Acting Chief Marketing Officer
Our next task was to create a visual identity and develop internal and external messaging that would bring the new brand to life.
A new logo draws from symbols including the shape of lungs (representing a healthy life force) and an infinity loop (representing the breadth of services). These two elements form together as an 'M' for Matrix. Tied together into one, these elements visually reflect the business' commitment to providing expert clinical care wherever it is needed.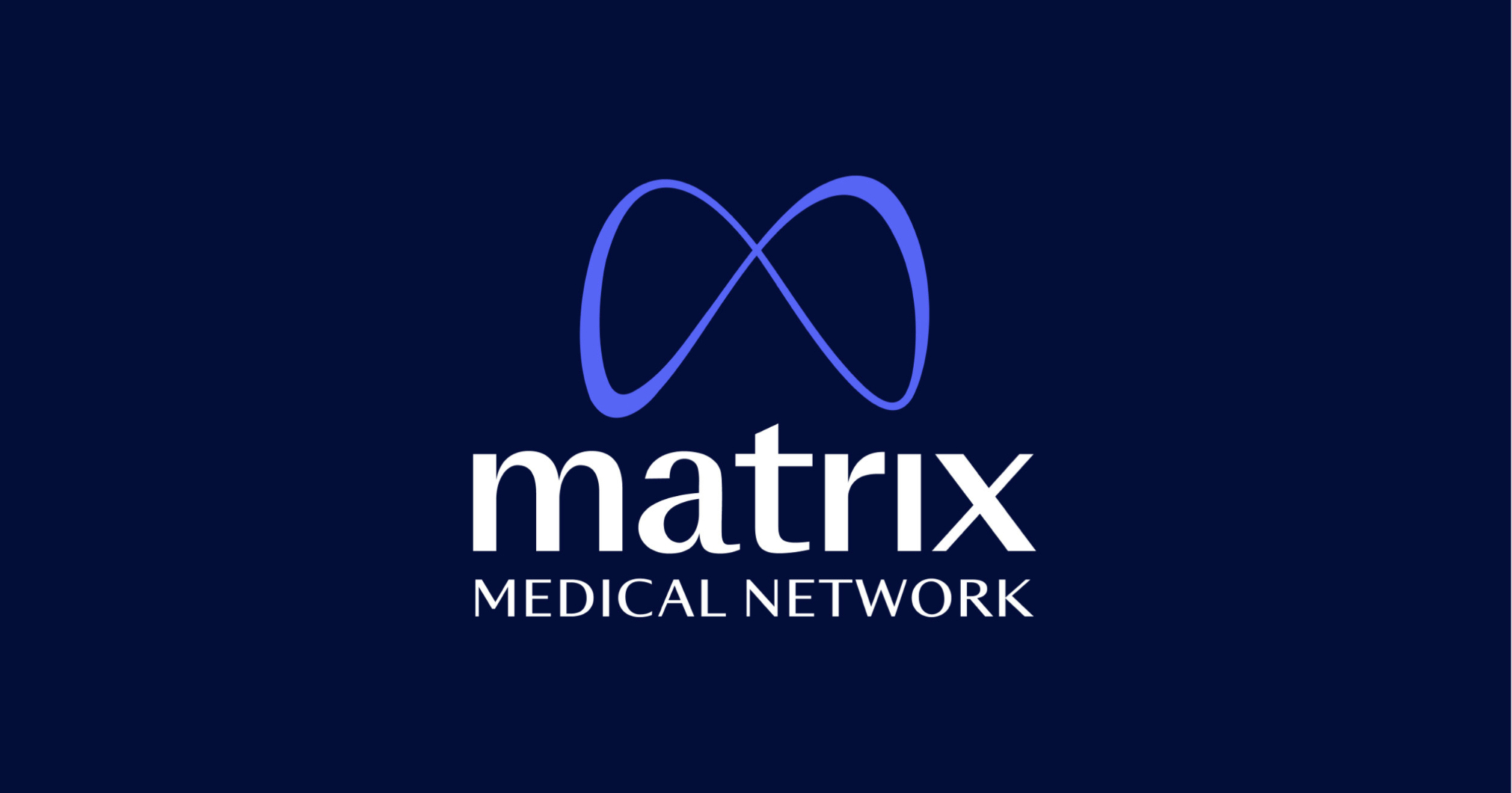 The logo and new color palette "strike the balance between reflecting brand and expertise," says Michael Mackay, Creative Director. By using color to differentiate between Matrix's multiple lines of business, the visual identity infuses freshness and diversity without compromising brand recognition.
We applied the new identity to the company's website and key communication assets.
And then finally we launched the new brand with a nationwide integrated advertising campaign featuring a brand video, digital advertising and social media.
Website redesign
We launched Matrix Medical Network's 'Expert care, wherever you are' brand positioning with a new website that introduces the company's four business units.
We use color to give each business unit its own discrete identity while using a common design language that ties everything together. The website features large bold photography, a simple, clean UX, data visualization elements and a short, punchy copy style to deliver confident, straightforward messaging that helps users navigate the site and content easily.
A range of content modules integrate subtle design touches to break up the flow of the site, add visual interest and direct attention to key facts, testimonials and proof-points.